News
[Forwarded News] Yushan Fellow Professor Wolfgang Härdle Organizes the International Conference
Release date:2023-09-06
Issued by:評鑑中心
Number of click-through:182
Yushan Fellow Professor Wolfgang Härdle Organizes: The 3rd Yushan Conference and 16th NYCU International Finance Conference

Conference Link: https://3-yushan.blockchain-research-center.com/
We are thrilled to announce the convergence of two prestigious conferences, the 3rd Yushan Conference and the 16th NYCU International Finance Conference, scheduled for December 08, 2023. These conferences, organized by Yushan Fellow Professor Wolfgang Karl Härdle, will delve into the cutting-edge realm of digital finance.
Conference Highlights: The conferences will explore key aspects of digital finance, including digital assets, blockchain technology, and tokenomics. These events provide a unique platform for academics, industry experts, and enthusiasts to engage in insightful discussions and collaborative initiatives.
Distinguished Speakers:Esteemed speakers include Codruța Mare from Babeș-Bolyai University, Romania; Cathy Woan-Shu Chen from Feng Chia University, Taiwan; and Szu-Hao Huang from National Yang Ming Chiao Tung University, Taiwan. Their expertise spans statistics, econometrics, Bayesian methods, and information management, offering a wealth of knowledge.

Aligned with Taiwan's Ministry of Education Yushan Fellow Program, these conferences highlight Professor Wolfgang Karl Härdle's commitment to advancing research cooperation and global integration.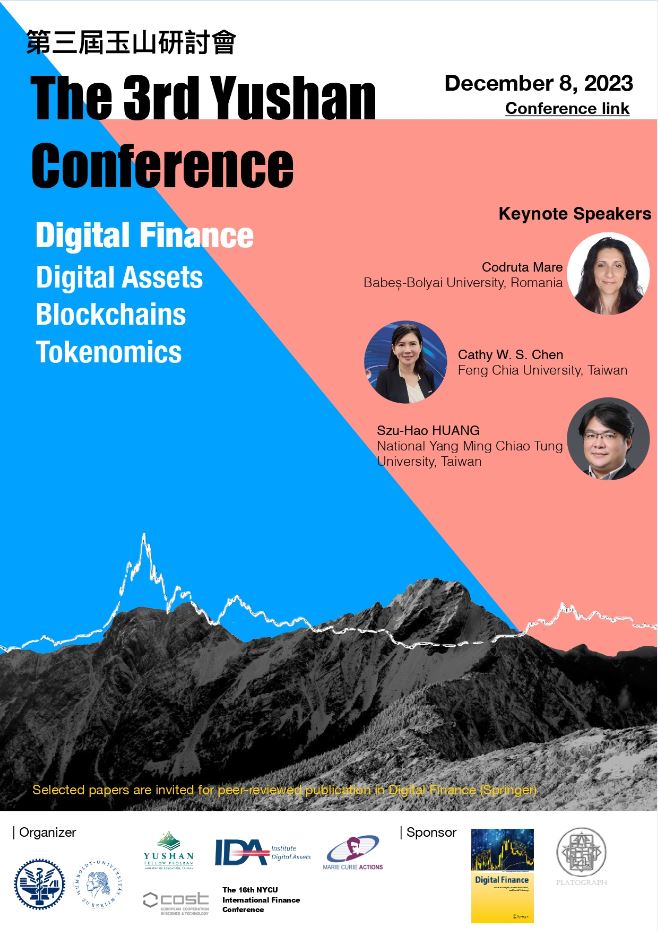 Relevant attachments
Agenda of Yushan Conference
Hae_3._Yushan_Conference.pdf